Created by Industry Leaders, for Industry Leaders
As a business leader, you know that the ever-changing nature of the marketing landscape cannot be ignored. Is your Team fully equipped to deal with it?
The skills needed to be successful now and into the future are constantly evolving. The ADMA Marketing Skills Assessment is a powerful tool providing the data you need to evaluate your Team's capabilities now – and what will be required for them to continue to succeed.

With extensive input and endorsement from industry leaders, we have ensured that the ADMA Marketing Skills Assessment takes a true industry-led approach, covering the full end to end marketing process. It is grounded by ADMA's robust marketing Capability Framework – which examines the four key marketing operational quadrants (Discovery, Strategy, Planning and Execution), and drills down into 12 capabilities and 35+ skills.

Built from an industry perspective, and encompassing every aspect of our diverse marketing profession, you can be confident the ADMA Marketing Skills Assessment will provide you with a real-world blueprint to develop capability and ensure your team has the skills required to deliver now, and in the future.
ADMA Marketing Skills Assessment is an included Member benefit
Team limits are aligned to Membership levels.
Please contact your ADMA membership manager for details and to register, here.

Additional Members: $80pp+GST ($88 incl GST)
Non Members: $120pp+GST ($132 incl GST)
Enrol now
About the ADMA Marketing Skills Assessment
Whatever the size or complexity of your team, the ADMA Marketing Skills Assessment is a structured, industry-led approach designed to provide a real-world blueprint to build a futureproof Marketing Department. Identify and close your skills gap with confidence.
Endorsed by industry leaders, created by the leading marketing industry body
Grounded in a robust capability framework, covering the four key marketing operational quadrants
Enables a complete 360° view of marketing capabilities and skills
Provides actionable reporting and a training pathway at both team and individual level
Developed for the Australian market

Completing the ADMA Marketing Skills Assessment takes only 30 mins and can be completed on any device, anywhere, anytime. Results are presented in an intuitive dashboard that allows extensive "drill down" into capability areas.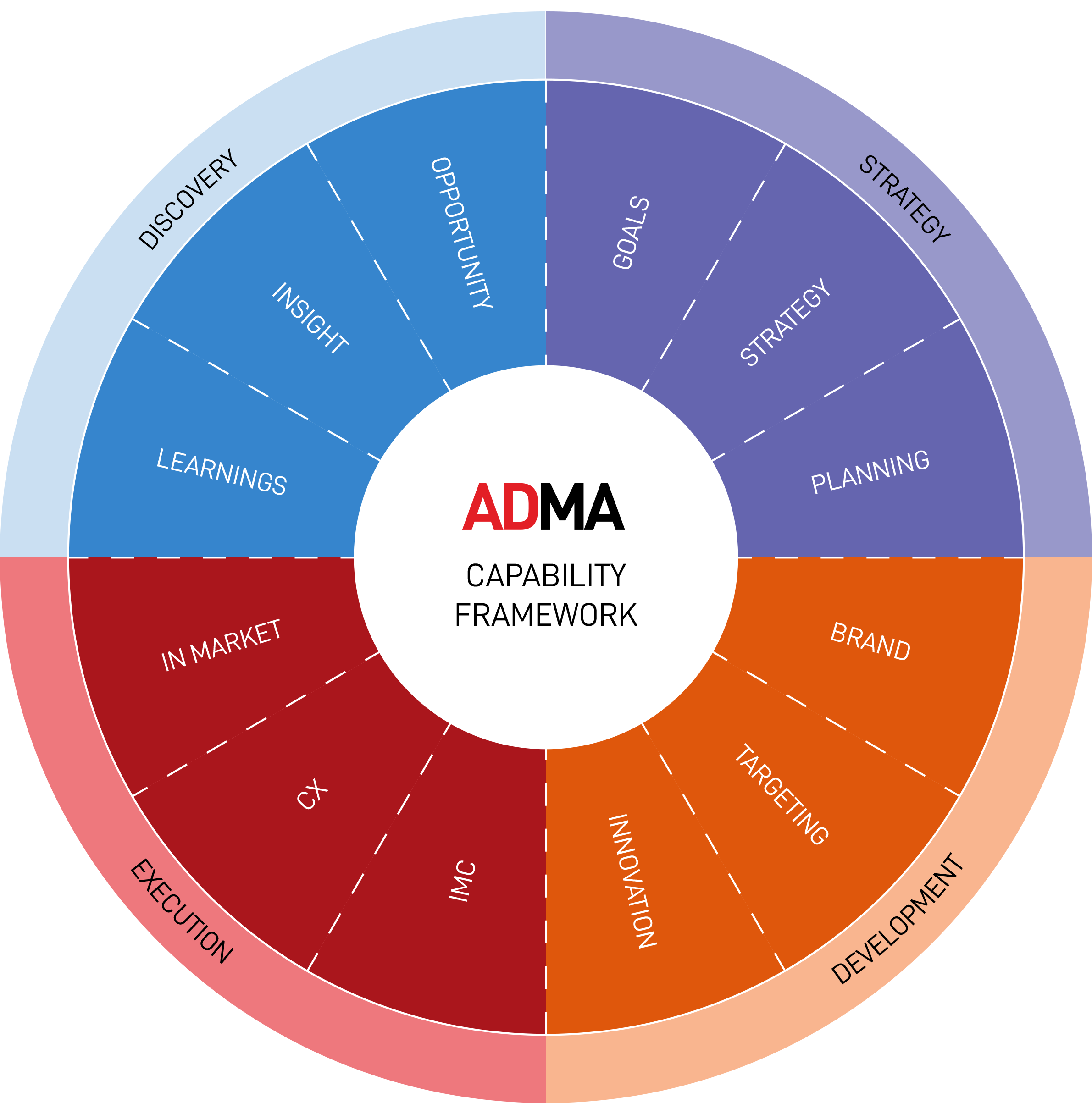 Why Marketing Capability is Urgent and Critical
External Challenges:
Technology is increasing exponentially faster
Covid has changed behaviours and business models – overnight
87% of organisations say they either are experiencing gaps now or expect them within a few years with nearly 50% saying they do not have a sense of "how" to address the skill gap problem and are not prepared for such a transformation. (WEF Future of Jobs Report (2020))
Internal Pressures:
Team capabilities provide your competitive advantage
Marketing and digital skills are merging
Marketing silos prevent effective customer solutions
The Need: An end to end marketing capability and skills assessment that:
Captures the diverse range of capability and skills included in the marketing profession.
Provides agnostic view of the profession, and is relevant across industry verticals, specialisations and experience levels
Enables targeted investment in the skills your company needs now, and for the future
How the ADMA Marketing Skills Assessment works
A simple, online self-assessment that takes approximately 30 minutes to complete, it provides a 360° view of your Team's marketing capabilities and skills, highlighting strengths and revealing any gaps. You receive detailed, actionable reporting, end-to-end data insights and a training pathway – at both Team and individual level – that empowers you to strategically develop your Team for business growth.

When completing the assessment process for yourself or your team there are three clear stages.
Define

Respondents complete the Marketing Skills Assessment
Answer a straightforward series of marketing questions. The evidence-based, self-assessment collects 'Know, Do, Share' criteria for each capability and skill. The assessment can be completed on any device and takes approx. 30 mins.

Decide

Analysis & Reporting
See where you excel, and understand the skills you are missing. The consolidated report of findings identify key themes and gaps in skills and capabilities, at a team and/or individual level. Includes four different learning stages, and is relevant to all experience levels and marketing career paths.

Do

Recommendations
Explore your personalised recommendations to start your learning journey. Use the actionable recommendations derived from the assessment results to help drive the prioritisation of your Learning and Development requirements and to inform your recruitment and organisation design.
Providing Data Driven Insights for Individual Marketers and Teams
The ADMA Marketing Skills Assessment delivers reliable results in an online report at both an individual and collective team level. Existing skills are rated, and gaps in your skill set are revealed.
Individual Assessment
After completing the survey, each respondent will receive an easy-to-understand report showing their experience level and results.
Marketing Team Snapshot
Team managers also receive a summary identifying trends, insights and recommendations on where to invest your L&D budget for maximum team and ROI impact.
How Organisations, Leaders and Marketers will Benefit
Knowing who, what and where to improve – and doing something about it – will set you up for improved Team performance and ultimately drive business results. Plus it will improve both staff retention and empower you to attract the right new staff.
Technological change is increasing exponentially, and marketing will continue to evolve quickly.
As you focus on delivering your business goals we are committed to improving industry standards and developing highly capable marketers.
The ADMA Skills Assessment will give you the clarity, tools and confidence to achieve your goals.